DAVISVILLE BAPTIST CHURCH
Photo of the Davisville Baptist Church on Street Road, west of Second Street Pike. The original building was dedicated in 1851.
LADIES WATCHING A PARADE?
We think these ladies are at a Parade. The location is on 2nd St. Pike at the present site of Strathmann's Lumber. Do you know any of the women, the year, or the particular holiday?
THE SEMINARY SCHOOL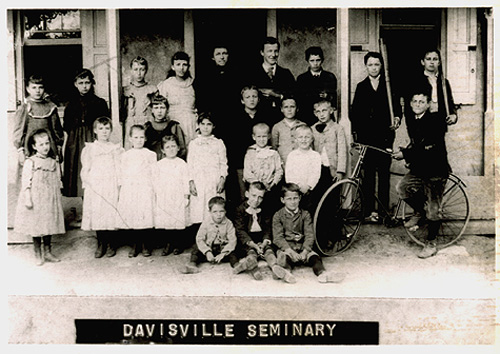 This picture was taken in front of the Davisville Seminary.
THE STONE ARCH BRIDGE ON GRAVEL HILL ROAD
The Stone Arch bridge on Gravel Hill Road. Because of its historic significance, the bridge was repaired rather than replaced by the county in 1996.
THE SOUTHAMPTON TRAIN STATION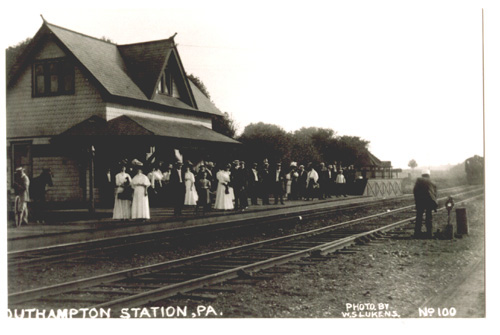 The Southampton Train Station circa 1910.
THE OLD SCHOOL BAPTIST CHURCH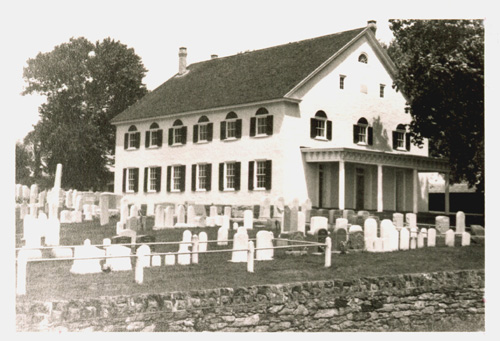 This is the Old School Baptist Church on 2nd Street Pike at Maple Avenue, across from Tamanend Park.It was placed on the National Register in 1978. The cemetery is the final resting place for a number of Revolutionary War soldiers.
THE OLD FREIGHT HOUSE
The Freight House at Second Street Pike looking south, at the railroad crossing. The house in the background is now Donut Time.
THE LEEDOM HOUSE
The Leedom House, which is familiar to most of us as the farm house in Tamanend Park, was purchased by Richard Leedom in 1713 and remained in the Leedom family for 146 years.
THE TOLL HOUSE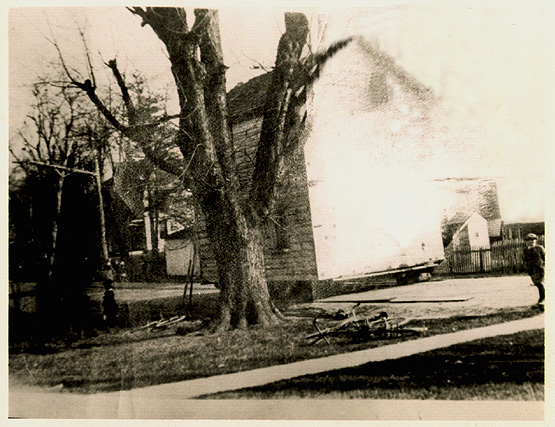 This is the toll house from 2nd Street Pike and Street Road being moved on wheels. its original location was on the southeast corner of Street Road and Second Street Pike. It was moved to Plum Street in 1919. The toll house remained on Plum Street until 1996 when it was torn down to provide access to a new housing development. As far as we know this is the only surviving picture of the move.
SECOND STREET PIKE
The view of 2nd Street Pike looking south just above the Village Inn. The small building in the foreground was once a harness shop.
STREET ROAD AND SECOND STREET PIKE
Street Road looking west. It is the Northwest corner of Street Road and 2nd. Street Pike. The house stood where Rowan Grant Funeral Home parking lot is now located.